History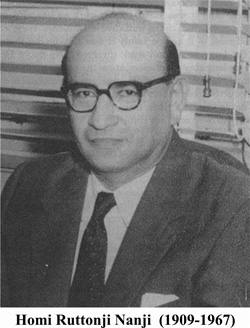 Company History
Established in 1948 by its founder 'Dr. Homi Rusttomji Nanji', Ph.D., B. Pharm(London),F.R.I.C, F.R.S.A., Italab Private Limited, an ISO 9001:2015 certified organization, is a name to reckon Nationally & Internationally for rendering services of Inspection, Industrial Testing & Analytical Laboratories with proven track record for its Integrity, Consistency & Reliability for Accurate, Impartial & On Time Investigative services.

Italab was started with a staff of only two chemists and two assistants, undertaking mainly the analytical work of a few Pharmaceutical products. However, its scope was soon to grow and with it the organization grew undertaking Inspection and Analytical work of Agri Products, Food & Beverages, Minerals, Ores & Metals, Coal & Coke, Water, Microbiological, Oil & Petroleum Products, Ayurvedic, etc…
The nascent Trade and Commerce of the Independent India demanded our services almost everywhere and as such ITALAB was set up with similar facilities at Mumbai, Chennai, Kolkata, Bellary, Visakhapatnam & Jamnagar (East, West, South & North India).We have a nationwide presence of branches, collection centres and testing laboratories and have presence in few Asian and European countries and have more than 250 experienced and qualified personnel trained for Inspection and Testing on state-of-the-art equipment to extend our services to all clients.
Our Production in India also promoted us to open facilities at Visakhapatnam and Bellary. By early sixties, the services offered by us to the Industry, Trade and Commerce of our country was not only varied but specialized too.
Our clientele are extensive and international as our scope and services includes various Industries, Major Corporations, Public Sector Companies as well as Private Sector Companies, Governmental bodies and Multinational Corporations.
Our Certificates and Evaluations reports are accepted by Industries, Trade, Commerce and Financial Institutions all over the India and GLOBE. We are on the approved list of recognized Assayers, Analytical Chemists, Surveyors and Samplers of several Government bodies and are also in service to many International and National institutions on Standardization of Surveying, Sampling and Analysis of several commodities.
ITALAB is committed to stringent quality measures and standards and its processes and services are maintained to the internationally accepted ISO 9001:2015 standard.
ITALAB has a focus based approach for all its activities and services and maintains an unbiased professionalism through its core values – Honesty, Integrity, Consistency & Reliability with strict Confidentiality.